The Early Warning System: aMMP-8 detects active collagen destruction early on
aMMP-8 is the activated matrix metalloproteinase 8, a biomarker that indicates the active degradation of gingival, periodontal soft and hard tissues – before any signs of inflammation or attachment loss become clinically apparent (in the screening procedure in apparently healthy patients). The test can thus provide information on the onset of destructive disease of the periodontium, which a probe or X-rays can only substantiate months later.
MATRIX METALLOPROTEINASES ARE LEADING CO-FACTORS OF PERIODONTAL TISSUE DEGRADATION. ``aMMP-8 PRECEEDS TISSUE LOSS`` PROF. TIMO SORSA, UNIV. OF HELSINKI

Diagnostic procedures, such as probing depth, bleeding on probing (BOP), Periodontal Screening Index (PSI) or X-ray demonstrate the manifestation of tissue breakdown and thus establish the presence of gingivitis/mucositis or periodontitis/peri-implantitis. These procedures cannot be described as medical prevention since measurable tissue loss has already taken place.
The classic oral hygiene parameters "Plaque Index" and "Gingival Index" provide information on the presence of bacterial plaque and can be used to motivate the patient. However, the presence of plaque is not indicative of the development of tissue damage. With a good immune defense, even a lot of plaque does not necessarily lead to periodontitis or peri-implantitis
Microbiological or marker-germ diagnostics, on the other hand, examine the question of which bacteria are colonizing the diseased pocket in the case of periodontitis and periimplantitis. According to the guidelines of the DGP and DGZMK, such tests are only meaningful "for the selection of an adjuvant systemic antibiotic therapy aimed at the present infection."16 Therefore, bacterial tests have hardly any prognostic value.
The interleukin-1 gene test provides information on the expected immune response of the patient to bacteria or the general genetically predisposed inflammatory readiness of the subject due to the tendency to premature interleukin production. The test does not provide information associated with the current condition.
PerioSafe - molecular biological prevention diagnostics for the periodontitis prevention program
The prevention patient in your practice
PerioSafe® Pro DRS closes the diagnostic gap and detects & selects the patients who need more prevention services (shortened recall intervals for prophylaxis) to stabilize and maintain their oral health. Active collagen degradation and oral silent inflammations can be detected in a few minutes with the delegable test – during screening, if possible before visible damage.
Evaluation of the practical potential for prevention services - Which patient needs more prevention services to maintain oral health?
About 43% of your patient base is in the group PSI 0 – 1. About 50% of these patients will have a positive aMMP-8 test result after a screening test in the group> 30 years of age and/or with chronic pre-existing conditions and need more prevention services to maintain or permanently stabilize their oral health.
The potential
Necessity of periodontitis prevention on the basis of DMS IV
The aMMP-8 study identifies patients with periodontal risk factors with a sensitivity and specificity of 90% (Prof. Sorsa et al.)
80% of patients who test positive decide to participate in a prevention program (Dr. P. v. de. Schoor et. al.)
German Oral Health Study Institute of German Dentists (IDZ) on behalf of the German Dentists Association and the National Association of Statutory Health Insurance Dentists
November 2006
The ORALyzer - in a few minutes to the professional molecular-biological analysis report with periodontitis protection and hygiene recommendations
PerioSafe® PRO DR + ORALyzer® - the prevention system for your practice
PerioSafe® provides dental practices with additional rapid tests for aMMP-8 diagnostics. PerioSafe® is used for the early detection of hidden periodontal tissue breakdown processes and for periodontitis prevention.
PERIOSAFE® PRO DR
For the screening of seemingly healthy patients over the age of 30 and of periodontitis risk patients, e.g. patients with diabetes, cardiovascular diseases or rheumatoid arthritis, as well as women who wish to conceive.
MONITORING WITHIN THE FRAMEWORK OF SUPPORTIVE PERIODONTAL THERAPY (UPT):
Screening for hidden tissue degradation processes as part of periodontitis risk diagnosis in the practice, e.g. before any professional teeth cleaning 1-2 times per year.
Periodontal diseases that are detected at an early stage (before tissue degradation) by probing or X-ray can be averted by timely professional intervention (recall and regular professional teeth cleaning). To safely detect intermittent collagenolytic tissue degradation, it is necessary to use aMMP-8 screening at least once a year as part of regular prophylaxis and recall in the context of adjunctive periodontal therapy. This is now easily done with the PerioSafe® PRO Rapid Test BEFORE professional teeth cleaning.
If patients have not yet developed deeper periodontal pockets, the symptoms are frequently still reversible.
TIPP:
PerioSafe® PRO is recommended in scientific studies for use in general practices for the interdisciplinary diagnosis of the risk of periodontitis in patients with diabetes, rheumatism and cardiovascular complaints.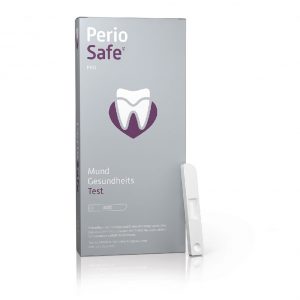 PERIOSAFE® PRO DR
THE EARLY DETECTION TEST FOR ACTIVE PERIODONTAL DEGENERATION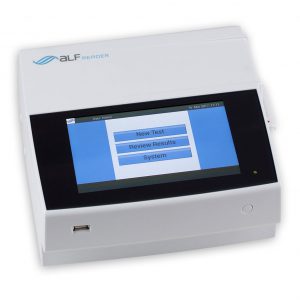 ORALyzer®
DIGITAL QUANTITATIVE EVALUATION – ASSESSED IN 5 MINUTES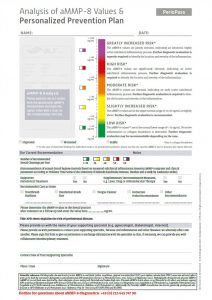 YOUR PERSONAL PREVENTION PLAN
PerioSafe – Quantitave analysis with the ORALyzer
PERIOSAFE® PRO DRS & ORALyzer®: DIGITAL – QUANTITATIVE – CHAIRSIDE
Detects active collagen degradation
Is simply durchzuführen,
Delivers a quantitative result in a few minutes,
Is validated and reliable,
Can be delegated and billed privately,
Can be used in both dental and medical practice and thus enables interdisciplinary diagnosis and therapy.
The PerioPreventionCenter (PPC): A Competence Center for Dental Preservation, Implant Protection and Molecular Biological Prevention Diagnostics
What is the PerioPrevention® concept?
PerioPrevention® Centers (PPC) are dental practices and clinics that are particularly committed to tooth preservation and implant protection and possess the associated qualifications. The use of aMMP-8 biomarker technology is integrated as a standard in screening and monitoring. The centers are the first point of contact in their region for interdisciplinary cooperation with specialist physicians. PPCs have the know-how and equipment to prevent the development of periodontal diseases at an early stage and to permanently eliminate them with modern diagnostics and minimally invasive measures.
98% of all aMMP-8 positive patients opt for prevention services.– v.d. Schoor et.al
INTERDISCIPLINARY PPC PREVENTION STRATEGY
Early detection of active collagen degradation by quantitative test/laboratory test (PerioSafe® PRO DR/ImplantSafe® DR & ORALyzer®) as diagnostic standard
Individual preparation of a prevention plan and collection of the quantitative MMP-8 input value. Professional dental cleaning (PZR) with pocket sterilisation or deep cleaning, consultation on domestic dental care (as required)
PerioPrevention® Concept – Regular tooth cleaning offers the most promising long-term results according to a Swedish long-term study. The 25-year study by Axelsson & Lindhe
recommends 4-6 tooth cleanings within the first 24 months. Subsequently, reduction of the intervals to 2-4 cleanings per year.
Clinical monitoring and quantitative control with aMMP-8 for follow-up, diagnosis-supported therapy and recall decisions
Interdisciplinary exchange with accompanying specialists of the patients if required
PERIO PREVENTION CONCEPT ACCORDING TO AXELSSON/LINDHE (CLEANING INTERVALS)
As a result of their 25-year study, Swedish researchers Axelsson & Lindhe recommend 4-6 teeth cleanings in the first 2 years. Thereafter, the intervals are reduced to 2-3 per year – which would reduce the tooth loss ratio by 90% to ~ 1.4!
The PerioPrevention® concept according to Axelsson/Lindhe can reduce tooth loss and the risk of inflammation by 90 %. The aMMP-8 technology measures subclinical collagen degradation and indicates individual prevention needs.– Prof. Dr. Timo Sorsa, University of Helsinki
Implant protection & tooth preservation
THEY DETECT THE PHASE OF PA-PROGRESSION BEFORE THE ACTUAL PERIODONTITIS OCCURS OR BEFORE AN EXISTING PA FURTHER WORSENS IN ITS COURSE.
Germans lose approximately 14 teeth by the time they reach retirement age (according to DMS IV)! In most instances, this is caused by the unnoticed progression of hidden periodontal inflammation, which has also increased by about 23%.
The PerioPrevention® Concept, founded on the scientific fundamentals of the Universities of Gothenburg and Helsinki as established by Axelsson/Lindhe, is based on more than 30 years of research and science. This confirms that with early detection and prevention almost 90% hidden inflammation and periodontal tooth loss can be avoided!
aMMP-8 detects hidden inflammation and identifies patients who are in active PA progression.
These can be integrated (preventively) in due course into supplemental prophylaxis and into the PerioPrevention® Concept.
aMMP-8 recognizes which patients are in PA progression.
PSI
→ measures the attachment loss – pocket depth that has already occurred (damage measurement)
MMP-8
→measures active tissue degeneration and has prognostic value
PA-Progression
→ is invisible to the eye because it is a molecular process in the immune system
The PerioPrevention® Center is united in improving and maintaining the health of the mouth and body
DO YOU RECOGNIZE YOUR OWN PHILOSOPHY OF PRACTICE HERE?
…and want to integrate medical biomarker technology as standard treatment in order to interface with medical professionals and keep your patients healthy in cross-discipline fashion?
Become part of a Europe-wide network in the fight against periodontitis and peri-implantitis and for the maintenance of oral and body health.
Then become a PerioPrevention® Center!