The implant protection program: Inflammation-free implants for a lifetime!
Despite the high success rates, the increasing number of implants means an increase in implant losses and complications due to hidden tissue degradation.
Dental implants are a success story: they impart a new feel for life to your patients, give them more self-confidence in their appearance and offer security when biting. No wonder than that, despite out-of-pocket costs of around €1,250 to €3,000 per treated tooth1, more and more patients are opting for implant-supported dentures. According to estimates of the German Society for Implantology, more than one million implants are now placed annually in Germany alone.
People with a high social status in particular opt for long-term care.2 Their expectations and demands are high. But despite remarkable success rates, an implant is lost every four minutes, i.e. in 140,000 cases per year, according to experts.3 One of the most frequent causes of implant loss are inflammations and tissue degradation processes: Studies have found peri-implant mucositis in up to 50% of implants and peri-implantitis in 12 to 43%*.
Approximately 1 million implants are inserted annually in Germany alone. More than 50 million have been used worldwide to date – making the focus on sustainability concepts all the more important as peri-implant inflammation has increased significantly.
TISSUE DEGRADATION WITH BONE INVOLVEMENT - A KNOWN COMPLICATION IN IMPLANTOLOGY
Periodontal history increases the likelihood of development of peri-implantitis
The longer an implant is integrated into the oral cavity, the more likely the development of tissue degradation processes and inflammation becomes.
Peri-implant inflammation and bone resorption processes lead undetected and untreated to loss of the implant.
Chronic periodontal attacks endanger the remaining tooth population and the implants
Patients with chronic pre-existing conditions must be particularly protected against oral silent inflammation.
DESPITE CONSIDERABLE SUCCESS RATES, ONE IMPLANT IS LOST EVERY FOUR MINUTES
Setting and protecting with aMMP-8
Today, many of the patients who opt for implants are only 40-50 years old. Based on the average life expectancy, an implant will need to be firmly anchored in the jaw for 30 to 40 years.
As a result, no effort should be spared to permanently protect this high-quality dental prosthesis against tissue degradation. In view of the frequency of periodontal tooth loss, subsequent implant treatment places special demands on the patient's cooperation, but also on patient and recall management within the handling dental practice.
THERE HAS BEEN A ``GAP`` IN DIAGNOSTICS SO FAR
For long-term implant preservation, early diagnosis of onset – i.e. non-visible – collagen degradation processes are crucial. Why? Because if acute inflammatory processes are recognized in advance, timely preventive measures can prove effective and prevent progressive tissue degradation. BOP, probing and x-rays are usually done too late, since they only confirm pre-existing, usually irreversible damage to the peri-implant tissue. This diagnostic gap between the onset of degradation processes and measurable tissue or bone loss can be closed with the ImplantSafe® rapid test and therapeutically halt collagen degradation.
CLOSE THE DIAGNOSTIC GAP AND PREVENT TISSUE BREAKDOWN PROCESSES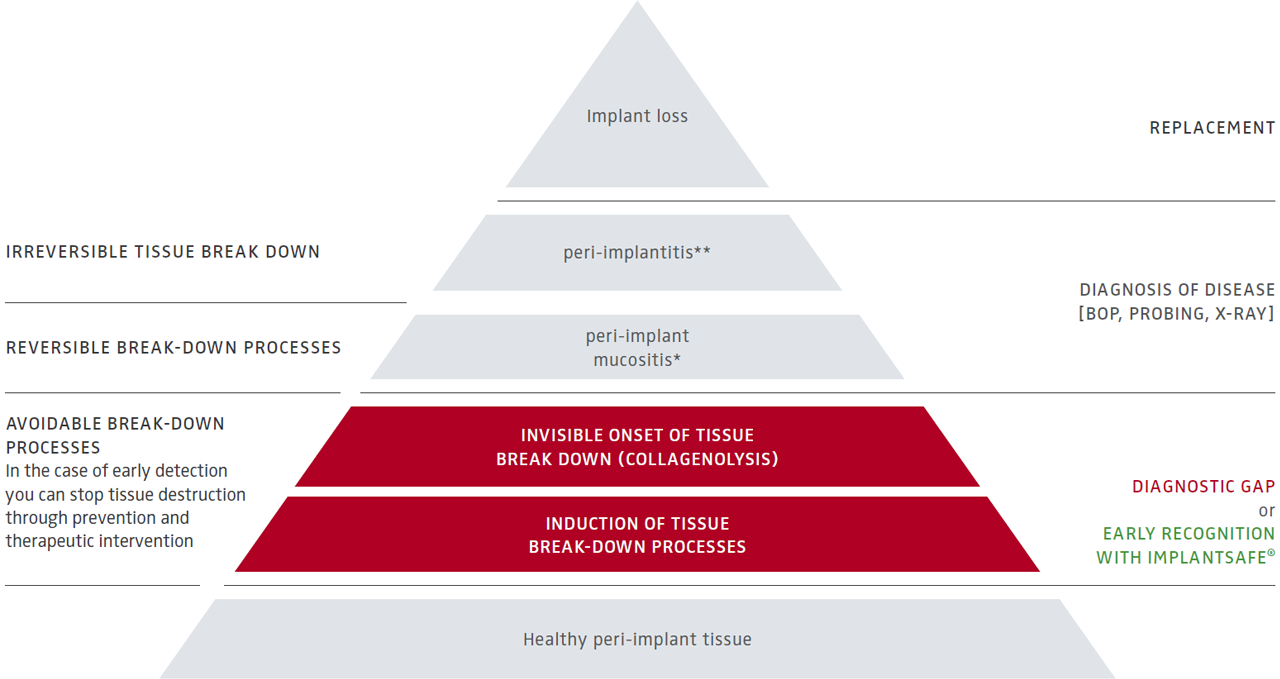 Mucositis is a reversible inflammation of peri-implant soft tissue. It is considered a precursor of peri-implantitis, but does not necessarily lead to peri-implantitis
Peri-implantitis is predominantly inflammatory disease, a pathological change in the peri-implant soft and/or hard tissue of an osseointegrated implant.
ImplantSafe - molecular biological prevention diagnostics for the implant protection program in your practice
``Waking Up the Sleeping Implant Patient`` - The Regular ImplantSafe® Recall
ImplantSafe® DR closes the diagnostic gap and detects & selects the patients who need more prevention services (shortened recall intervals for prophylaxis). Active collagen degradation can be detected easily and in a few minutes with the delegable test – if possible, before irreversible damage occurs.
aMMP-8 CONTROL - THE KEY FOR LIFE -LONG DENTAL IMPLANTS
ImplantSafe® DR measures active collagen destruction by determining aMMP-8, an endogenous collagenase in the peri-implant sulcus fluid (PISF).10 The active form
of matrix metalloproteinase-8 breaks down the tissue-supporting collagen fibers to pave the way for granulocytes, macrophages and osteoclasts to become a source of infection. aMMP-8 is thus a
biomarker for the destruction of gingival, periodontal and peri-implant tissue.
Even before the peri-implant tissue appears conspicuous – usually in a reversible stage – increased aMMP-8 levels can already be detected. If aMMP-8 is permanently elevated in the PISF, progressive collagen degradation can eventually lead to soft tissue and bone loss. In peri-implantitis, aMMP-8 levels were detected up to 1,000 times higher than those of healthy implants.11 This is likely also due to the healing of connective tissue and the associated lower sulcus flow rate. As a result, fewer collagenases are able to be washed out of the implant bed and increase their concentration there.
With ImplantSafe® DR, individual implants that have an elevated value can be pinpointed during regular annual checkups, meaning at least 1-2 per year. A preventative treatment concept is efficient at this early stage. The value, which is quantitatively expressed in nanograms, can be used to clearly explain and illustrate the importance of dental hygiene and home care to your patients (APD info sheet).
The ORALyzer - Receive a professional molecular-biological analysis report in just a few minutes with implant protection and hygienic recommendations
ImplantSafe® + ORALyzer® - The digital, quantitative aMMP-8 Chairside Test for Recall & Monitoring
ImplantSafe® DR is the digital, quantitative aMMP-8 test for the early detection of active periodontal degeneration and alveolar bone loss at the dental implant. As a so-called "chairside" test, ImplantSafe® DR can be performed by dental professionals at every recall within minutes.
This biomarker technology allows you to control every single implant as well as differentiate between very limited to no collagen degradation and a high ng level, and thus increased risk for tissue degradation. This eliminates wait times for laboratory test results. This enables you to immediately inform the patient of the result, as well as discuss and plan the further course of action. By digitally visualizing the value, ImplantSafe® DR (ImplantPass sheet) is a perfect support feature for prevention, sensitizing and motivating patients with dental implants. Based on the clinical picture, improved hygiene and professional anti-inflammatory measures may be indicated, as well as tighter recall.
CHECKLIST OF PERI-IMPLANTITIS RISK FACTORS:
Risk factors that can promote the development of tissue degradation at the implant, inflammation and consequently peri-implantitis include e.g.
Periodontitis history
Inadequate oral hygiene / incomplete implant care at home
Bacterial contamination, oral biofilm formation
Decreasing compliance / lack of recall loyalty
Smoking
General diseases, e.g. diabetes or osteoporosis
Various drugs, e.g. immunosuppressants
Hormonal changes, prolonged stress
Regular alcohol consumption and negligent lifestyles
Genetic predisposition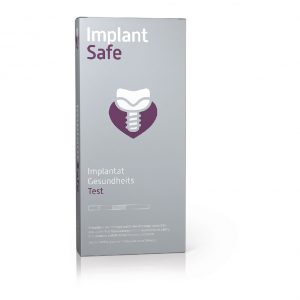 IMPLANTSAFE® DR
THE EARLY DETECTION TEST FOR ACTIVE PERIODONTAL DEGENERATION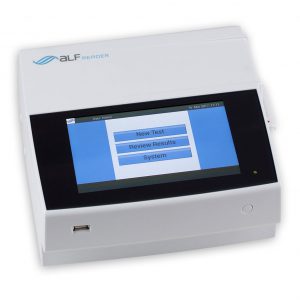 ORALyzer®
DIGITAL QUANTITATIVE EVALUATION – ASSESSED IN 5 MINUTES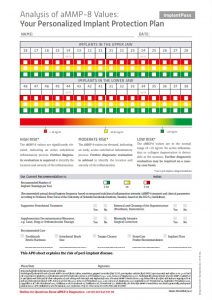 YOUR PERSONAL PREVENTION PLAN
In order to prevent the progression of this process, early detection and initiation of the necessary measures are of crucial importance since the emergence of peri-implantitis (i.e., measurable bone loss >4 mm) can be effectively prevented by early detection and secondary prevention measures (p.3 DGI guideline).
As a rule, this involves cleaning the implant neck area and more frequent follow-up visits in our practice. However, your cooperation is also essential and is vital to the success of your implant protection program.
ImplantSafe® – Quantitative analysis with the ORALyzer®
IMPLANTSAFE® DR & ORALyzer®: DIGITAL – QUANTITATIVE – CHAIRSIDE
detects active collagen destruction.
is simple to perform.
delivers a quantitative result in a few minutes.
is validated and reliable.
can be delegated and billed privately.
is site-specific for testing on individual teeth or dental implants.
PerioPreventionCenter (PPC): A Competence Center for Dental Preservation, Implant Protection and Molecular Biological Prevention Diagnostics
What is the PerioPrevention® concept?
PerioPrevention® Centers (PPC) are dental practices and clinics that are particularly committed to tooth preservation and implant protection and possess the associated qualifications. The use of aMMP-8 biomarker technology is integrated as a standard in screening and monitoring. The centers are the first point of contact in their region for interdisciplinary cooperation with specialist physicians. PPCs have the know-how and equipment to prevent the development of periodontal diseases at an early stage and to permanently eliminate them with modern diagnostics and minimally invasive measures.
98% of all aMMP-8 positive patients opt for prevention services.– v.d. Schoor et.al
INTERDISCIPLINARY PPC PREVENTION STRATEGY
Early detection of active collagen degradation by quantitative test/laboratory test (PerioSafe® PRO DR/ImplantSafe® DR & ORALyzer®) as diagnostic standard
Individual preparation of a prevention plan and collection of the quantitative MMP-8 input value. Professional dental cleaning (PZR) with pocket sterilisation or deep cleaning, consultation on domestic dental care (as required)
PerioPrevention® Concept – Regular tooth cleaning offers the most promising long-term results according to a Swedish long-term study. The 25-year study by Axelsson & Lindhe recommends 4-6 tooth cleanings within the first 24 months. Subsequently, reduction of the intervals to 2-4 cleanings per year.
Clinical monitoring and quantitative control with aMMP-8 for follow-up, diagnostics gestützte Therapy and recall decision
Interdisciplinary exchange with accompanying specialists of the patients if required
PERIO PREVENTION CONCEPT ACCORDING TO AXELSSON/LINDHE (CLEANING INTERVALS)
As a result of their 25-year study, Swedish researchers Axelsson & Lindhe recommend 4-6 teeth cleanings in the first 2 years. Thereafter, the intervals are reduced to 2-3 per year – which would reduce the tooth loss ratio by 90% to ~ 1.4!
The PerioPrevention® concept according to Axelsson/Lindhe can reduce tooth loss and the risk of inflammation by 90 %. The aMMP-8 technology measures subclinical collagen degradation and indicates individual prevention needs.– Prof. Dr. Timo Sorsa, University of Helsinki
Implant protection & tooth preservation
DETECT THE PHASE OF PA-PROGRESSION BEFORE THE ACTUAL PERIODONTITIS OCCURS OR BEFORE AN EXISTING PA FURTHER WORSENS IN ITS COURSE.
Germans lose approximately 14 teeth by the time they reach retirement age (according to DMS IV)! In most instances, this is caused by the unnoticed progression of hidden periodontal inflammation, which has also increased by about 23%.
The PerioPrevention® Concept, founded on the scientific fundamentals of the Universities of Gothenburg and Helsinki as established by Axelsson/Lindhe, is based on more than 30 years of research and science. This confirms that with early detection and prevention almost 90% hidden inflammation and periodontal tooth loss can be avoided!
aMMP-8 detects hidden inflammation and identifies patients who are in active PA progression.
These can be integrated (preventively) in due course into supplemental prophylaxis and into the PerioPrevention® Concept.
aMMP-8 recognizes which patients are in PA progression.
PSI
→ measures the attachment loss – pocket depth that has already occurred (damage measurement)
MMP-8
→measures active tissue degeneration and has prognostic value
PA-Progression
→ is invisible to the eye because it is a molecular process in the immune system
The PerioPrevention® Center is united in improving and maintaining the health of the mouth and body
DO YOU RECOGNIZE YOUR OWN PHILOSOPHY OF PRACTICE HERE?
…and want to integrate medical biomarker technology as standard treatment in order to interface with medical professionals and keep your patients healthy in cross-discipline fashion?
Become part of a Europe-wide network in the fight against periodontitis and peri-implantitis and for the maintenance of oral and body health.
Then become a PerioPrevention® Center!